Download YUMI Bootable Creator Terbaru 2022
Software yang bisa kalian gunakan untuk membuat multiboot usb flashdisk bootable. Dimana nantinya, kalian bisa mengisikan berbagai macam sistem operasi, antivirus boot, utilities, disc cloning dan berbagai macam diagnostic tools lainnya. YUMI v2.0.9.4 terbaru adalah singkatan dari Your Universal Multiboot Integrator. Ini merupakan aplikasi pengembangan dari MultibootISOs. Menggunakan manajemen syslinux untuk dapat booting dari berbagai macam sumber hanya dengan satu flashdisk. Fitur grub dalam sistem yumi dapat digunakan untuk boot berbagai macam file ISO dalam satu flashdisk jika kalian memerlukannya.
Selain itu juga, aplikasi ini dapat memberikan space tertentu yang digunakan sebagai media penyimpanan. Jadi engga semua size storage terpakai untuk multiboot. Buat kalian yang ingin install sistem operasi seperti linux atau windows menggunakan flashdisk, maka software ini adalah alternatif terbaik selain rufus. Aplikasi yumi gratis dan bersifat open source, jadi kalian engga perlu khawatir. Ingin coba software ini? Download yumi terbaru 2022 gratis dibawah.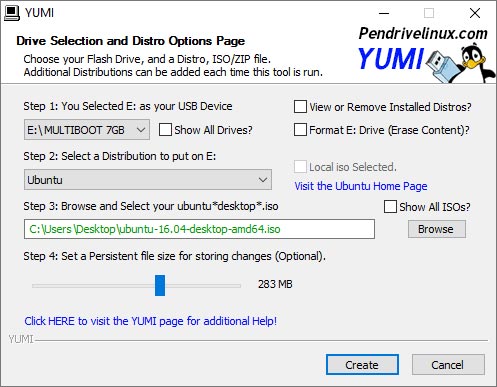 Fitur Aplikasi YUMI Terbaru v2.0.9.4
Support Norton Bootable Recovery Tool, Quick Save Live, Hiren's Boot CD PE, and CentOS 7 Live.
Update to support Kodachi, and newer Kaspersky Rescue Disk.
Update to support GeckoLinux and newer Porteus.
Fix various broken links.
Medicat now extracts to the root folder until I find a fix for lost paths.
Added support for Super Grub2 Disk, Trisquel, newer LXLE, and Medicat.
Added support for Antergos, PureOS, CentOS Installer, Ubuntu Mini (Netboot Installer)
Corrected broken Debian homepage link and Lubuntu, Xubuntu download links
Add ability to create larger than 4GB casper-rw persistent file if using NTFS format for Ubuntu
Added casper-rw creation progress banner.
Add Windows to Go VHD option.
Cara Menggunakan Yumi Multiboot USB Bootable ke Flashdisk
Untuk menginstall windows 10 dengan usb sangatlah mudah dengan software ini. Jika sebelumnya saya telah menuliskan artikel mengenai cara install windows dengan flashdisk (software rufus), maka kali ini hanya akan berbeda di softwarenya aja. Secara overal tidak ada yang berbeda, pada intinya kalian harus memilih file iso, mengatur settingan UEFI atau Legacy, lalu mengisi file system (NTFS, FAT atau untuk linux).
Simak video tutorial berikut ini :
Download Yumi Terbaru Multiboot USB Creator