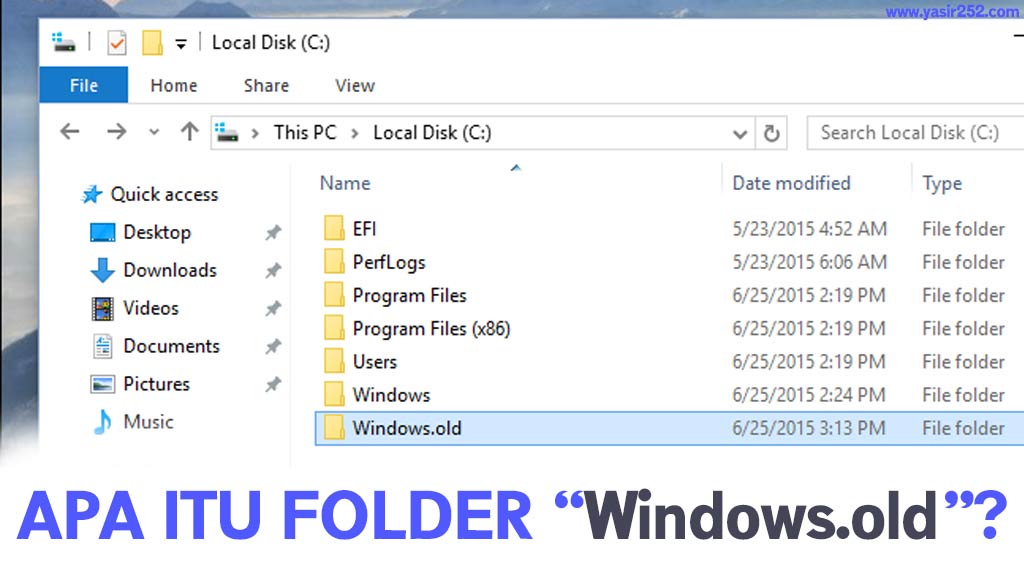 Upgrade Windows ke versi yang baru? Nah muncullah folder yang bernama Windows.old, dan folder ini memakan banyak space pada harddisk. Anda tentu dapat menghapusnya, tapi jangan asal hapus lho ya, karena berbeda dari menghapus biasa dengan klik kanan.
Apa Itu Folder Windows old?
– Folder Windows old
Folder ini muncul ketika anda sehabis melakukan install Windows ke versi lainnya. Folder Windows.old memiliki file-file dan data dari Windows anda versi sebelumnya. Anda dapat mengembalikan/restore kembali ke Windows lama anda jika tidak menyukai Windows yang baru diinstal. Jika kamu mencari file/data yang spesifik seperti dokumen, eksplor saja folder tersebut terutama pada bagian Users/Documents.
Yang terpenting, folder Windows.old memiliki sistem windows yang lama. Pada setiap user account settings dan file-file, ada didalamnya. Intinya folder ini berguna untuk berjaga disaat anda mencari dokumen ataupun restore ke windows versi lama sewaktu waktu anda membutuhkannya.
Tapi jangan menunggu lama, sebab Folder ini memakan banyak space pada harddisk. Banyak hal yang anda dapat lakukan, antara lain :
Downgrade ke Windows Versi Sebelumnya


Sangat mudah untuk mendowngrade ke Windows lama anda. Setelah install Windows versi baru, pergi ke Settings > Update & Security > Recovery. Kamu akan lihat tombol "Get Started" dibawah "Go back to Windows 7″ atau "Go Back to Windows 8.x", hal ini bergantung pada versi windows lama sebelum windows versi baru diinstal. Tekan tombol tersebut dan Windows akan restore ke Windows versi lama anda, melalui sumber folder Windows.old. *Note : akses Settings pada keyboard dengan Windows + I
Namun perlu diingat, hal ini hanya dapat dilakukan SATU BULAN setelah penginstallan Windows versi baru, setelahnya akan dihapus otomatis oleh Windows.

Recover/Mengambil Kembali File dari Folder Windows.old


Jika anda ingin recover/mengambil kembali file-file lama anda dari Windows versi lama, anda dapat melakukannya melalui Folder Windows.old. Hal ini bisa dilakukan dengan membuka explorer lalu masuk ke C:\Windows.old, file-file anda berada pada C:\Windows.old\Users\userlama_anda. Carilah file-file anda yang ada didalam folder userlama_anda, dan ingat batas anda hanya satu bulan. – Folder Windows old

Cara Menghapusnya Dengan Benar

Jika anda mencoba untuk menghapusnya dengan cara biasa seperti Klik Kanan > Delete, kemungkinan terjadi gagal hapus atau akan ada Junk atau sampah pada Registry anda, dengan kata lain Folder tersebut hilang namun secara tidak langsung hal-hal error bisa saja terjadi. Direkomendasikan tidak melakukan hapus biasa. Untuk menghapusnya dengan benar, gunakan cara mudah ini :

Buka startmenu lalu cari disk cleanup seperti gambar diatas lalu buka. Mungkin memakan sedikit waktu jadi ditunggu saja

Bisa dilihat bahwa Folder Windows.old memakan banyak sekali space pada harddisk, seperti digambar besarnya mencapai hampir 12GB. Ceklis Previous Windows installation(s), lalu tekan OK. Sekarang folder Windows.old sudah terhapus dengan bersih karena menggunakan cara yang benar. – Folder Windows old
Sekian tentang folder Windows.old, bagi anda yang masih bingung, tenang saja folder itu memang sudah dari sananya. Tiga hal diatas dapat anda lakukan kepada folder tersebut. Jadi bukan virus atau semacamnya, dan sekali lagi saya ingatkan bahwa folder tersebut hanya bertahan selama satu bulan setelah penginstallan windows versi baru.