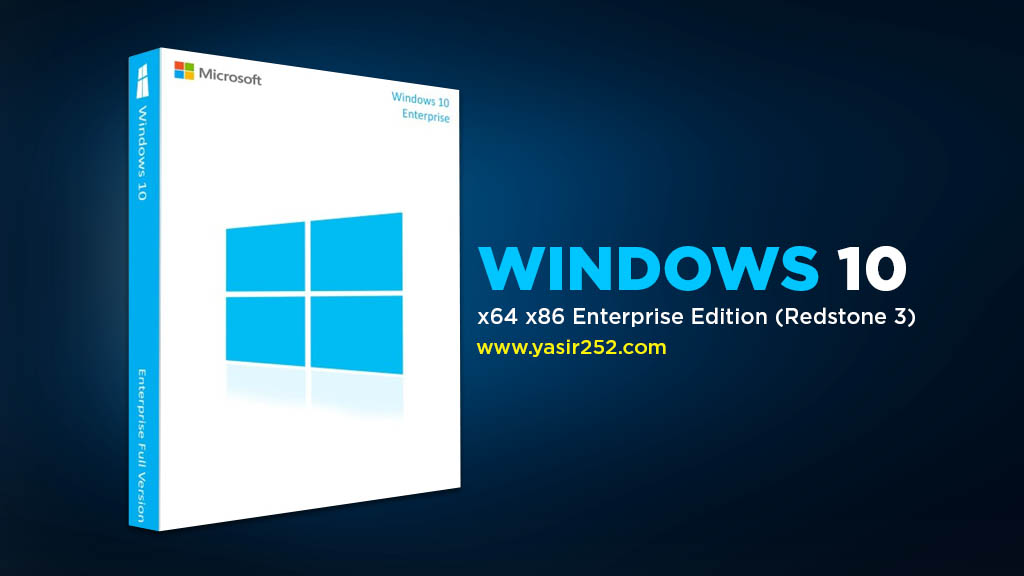 Download Windows 10 64 Bit : Enterprise Edition (Update Redstone 3)
Windows 10 dirancang untuk senantiasa mendampingi Anda dari satu perangkat ke perangkat yang lain dengan performa yang tinggi. Begitu cepat dan responsif, baik Windows 10 Home, Pro, Enterprise, dan Education semuanya memiliki fitur utama (Core Experiences) yang sama. User Interface, User Experience, Start Menu, dan fitur terbaru lain seperti Cortana, Windows Hello, Virtual Desktop, Continuum, atau bahkan juga browser Edge semuanya ada. Namun pernahkah kamu coba Windows 10 Enterprise?
Jika kamu ingin menggunakan Windows 10 untuk fasilitas kantor sekelas enterprise, maka Windows 10 Enterprise paling tepat untuk digunakan karena memiliki security dan fitur manajemen yang lebih baik. Yuk kita coba download windows 10 64 bit full version.
Oiya versi ini berbeda loh ya dengan windows 10 pro 64 bit. Kalau kalian ingin download windows 10 pro 64 bit bisa di cek halaman selanjutnya. Coba lihat perbedaannya :
Fitur Windows 10 Enterprise 64 bit :
Produktivitas & User Experience
Minimum system requirements:
Processor: 1 gigahertz (GHz) clock rate, IA-32 or x64 architecture, Support for PAE, NX and SSE2
Memory (RAM): 2 GB for IA-32 and x64 edition
Graphics card: DirectX 9 graphics device and WDDM 1.0 or higher driver
Display screen: 800×600 pixels
Input device: Keyboard and mouse
Hard disk space: 16 GB for IA-32 edition and 20 GB for x64 edition
Recommended system requirements:
Processor: x64 architecture with support for CMPXCHG16b, PrefetchW and LAHF/SAHF
Memory (RAM): 4 GB
Graphics card: WDDM 1.3 or higher driver
Display screen: 1024×768 pixels
Input device: Multi-touch display
Hard disk space: N/A
Download windows 10 64 bit full version : Enterprise Edition
Cara Install Windows 10 :
1. Pertama, Download Versi windows yang sesuai 64bit atau 32bit. Di Dalam nya ada file .iso untuk dilanjutkan
2. Bisa gunakan program ISO Burner ke DVD, atau gunakan program Rufus untuk install dengan Flashdisk
3. Boot komputer kalian dengan DVD atau Flashdisk
Note :
– Versi ini tidak muat pada DVD biasa (4,7 GB), dan Anda perlu menggunakan dual-layer disc (8,5 GB) atau USB flash drive.
– Saat menginstal, Anda tidak perlu memasukkan memasukkan serial number. Cukup aktifkan dengan KMS Auto atau KMSpico

Single Link 32 Bit | GDrive | Mega  | FileUpload | KBagi
Single Link 64 Bit | GDrive | Mega  | FileUpload | KBagi
Filesize : 3.4 (x86) & 4.4 GB (x64) | Password : www.yasir252.com
---
Direct Link via P30Download (64 Bit) | Part 1 | Part 2 | Part 3 | Part 4 | Part 5
Direct Link via P30Download (32 Bit) | Part 1 | Part 2 | Part 3 | Part 4
Filesize : 4.7 GB | Password : www.p30download.com
---