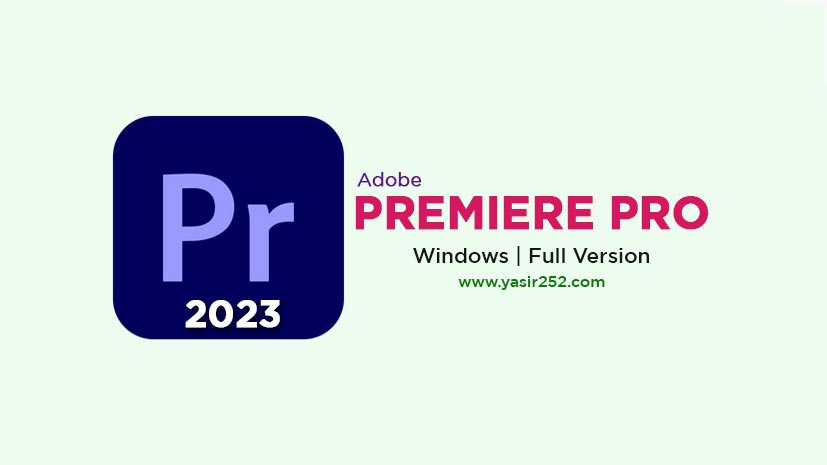 Premiere Pro 2023 Full Version Download v23.6
Premiere Pro 2023 Full Version v23.6 Download. Editing videos is no easy feat, especially if you don't use a powerful application to meet all your editing needs. Luckily, Adobe is constantly developing their video editor application, Premiere Pro. Since the initial release of this software, many changes have been implemented. Not only the interface has changed, but the features, plugins, effects, and workflow have been very different and more sophisticated.
Especially in the latest update in 2023, Adobe Premiere Pro becomes a more stable and high-performance video editing application. Some of the features that stand out in this latest update are the faster Motion Graphics Template capabilities and also GPU-Accelerated Lumetri Scopes for Color Grading. Other than that, Premiere Pro 2023 also gets a lot of workflow changes, especially when opening a project. We can also do Alignment Control with great flexibility, we can line up text & shape elements with just one click.
Still the same as the previous version, Premiere Pro 2023 gives us a series of tools and plugins for video editing (edit, trim, cut, effects). However, it seems that the resource usage used by this software is getting heavier every year. Therefore, make sure your computer specifications support this application. At a minimum, with RAM above 8GB, a dedicated Graphics Card such as GTX 1060 (Hardware Acceleration), and at least use a 6th generation Intel i3 Core CPU and above. In addition, this software also only supports Windows 10 and Windows 11 Pro 64 bit with the latest build, at least 2023 update. Interested in using this application? Download Adobe Premiere Pro 2023 Full Version for Windows.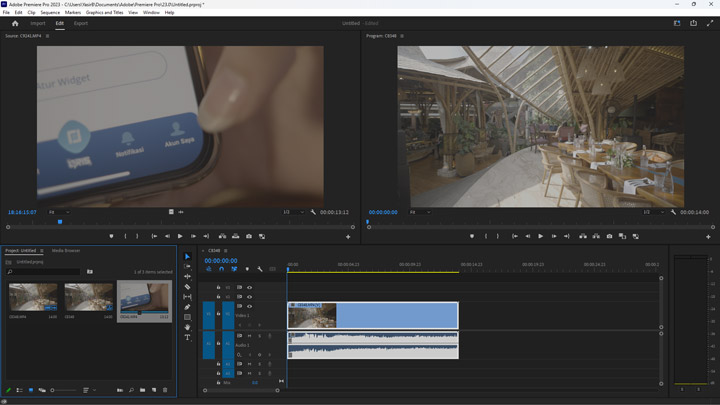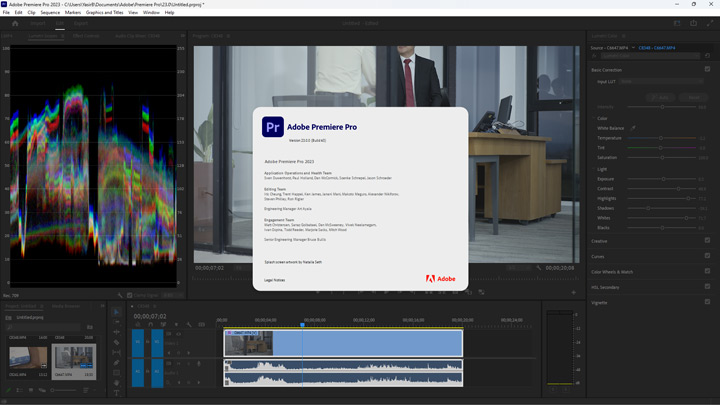 Adobe Premiere Pro 2023 Full Features v23.6
Banyak pembaharuan pada workflow di seluruh user interface
Inner and outer strokes for graphics
Line up text and shape elements with one click
Select multiple title clips in the Timeline to efficiently change attributes
2x Faster Motion Graphics templates
GPU acceleration ensures smooth performance when working with Lumetri scopes
Apple ProRes is now the default codec for previewing most video formats
Finer masking controls for titles
Context menu for text and shapes
Video Editing, Cutting, Trimming, Transition and more
Auto Ducking lowers the volume of soundtrack or other background audio
Now it's easy to turn the titles in your video into a text document
It also support Windows 10 and Windows 11 Pro 64 bit
System & Hardware Requirements for Windows
Operating System
Windows 10 & 11 (64-bit only)
Processor
2GHz Intel i5 Core, Gen 6th
RAM
8GB or higher of RAM
Monitor
Monitor with 1920×1080 pixels or higher resolution
Graphics
NVidia Dedicated GPU or AMD GPU
How to Install Premiere Pro 2023 Full Version for Windows
Download Premiere Pro 2023 on your PC Windows
Extract file PP23f.rar dengan WinRAR
We recommend that you first turn off Windows Defender Realtime & Antivirus
Run Setup.exe
Wait for the installation process to complete
Run and try the software!
Alternative Software: BlackMagic Davinci Resolve Full Version
Adobe Premiere Pro 2023 Full Version v23.5 (Windows)